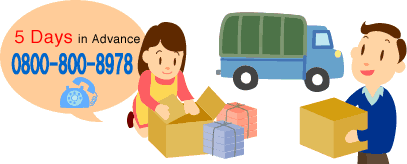 Be sure to notify Gas bureau at least five days in advance to request or turn off gas service via telephone calls or Internet.
If you used to be a customer of Sendai City Gas, tell us your customer number that is on your bill or receipt.
Open work of meter gas cocks
Our technical staff visits your house and open meter gas cock. We request your presence during the process. If you cannot make it, your substitutions are permitted.
Turn off gas service
You are responsible for gas used at the property until Sendai City Gas gets in to turn it off at the meter. Please be sure to pay all gas bills you used.
Gas appliances
We supply the type of "13A" gas. Check the gas type of your gas appliances and also confirm the gas type at your new residence.
It is dangerous to use a type of gas not compatible with the appliances.
Account transfer
If you continue to receive your gas service from Sendai City Gas, you can use same account for gas bill payment.
Customer Center
TEL:0800-800-8978
Hours of Operation:8:30-19:00 (weekday), 8:30-17:00 (Saturday)